2011-01-20
20:00:34
Taylor i YOU UK
'
hihi går det att läsa?? jag försöker :P
2011-01-17
15:56:54
Bilder från Taylors nya lägenhet
Här är några bilder tagna i Taylors nya lägenhet i Nashville som hon har flyttat in sommaren 2010.
Vill se hela lägenheten för den verkar vara helt 
underbar
och precis som hon förklarat den som - missmatched ♥.
.
Claire och Grant
(Claire var Taylors dansare under Fearless turnen och Grant är med i hennes band - Clair och Grant är även tillsammans om ni inte visste det :)
Abigail, Taylor och även Abigails pojkvän
Älskar att vi får se mer och mer från hennes nya lägenhet för
det ser ut som om det är en liten sagovärld hon bor i ♥

2011-01-02
15:23:02
Taylor outtakes BLISS magazine 2009
They are - wonderful♥
2010-12-28
13:39:33
Taylor lämnar Turks & Caicos i Miami (24/12)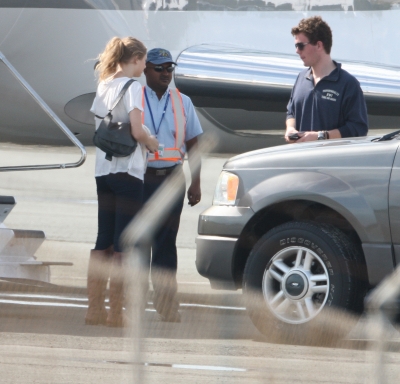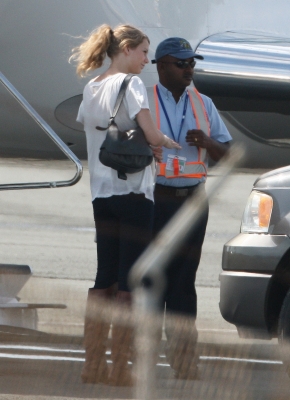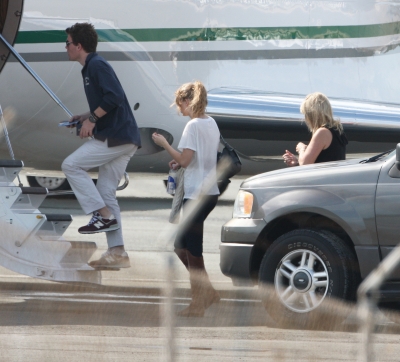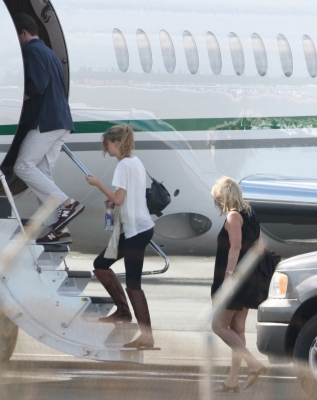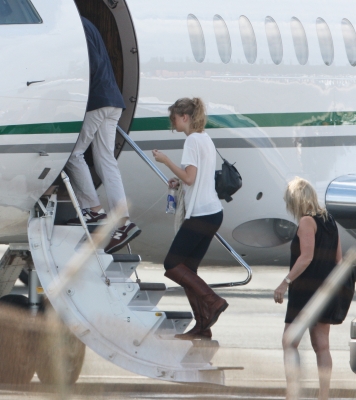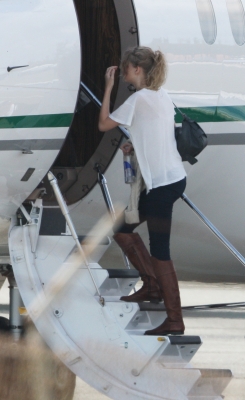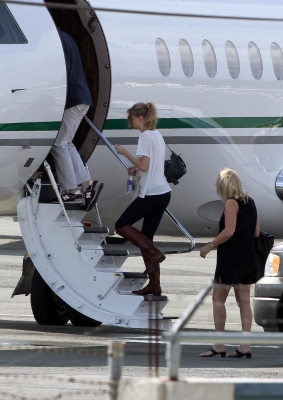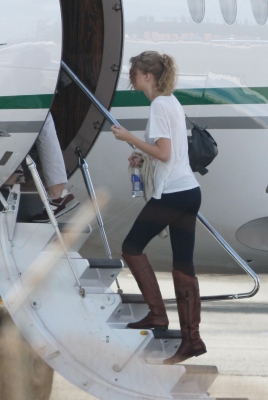 Taylor, hennes bror Austin och sin mamma
2010-12-27
14:12:44
Taylor FASHION magazine bilder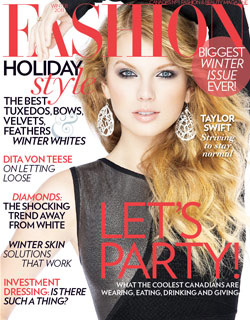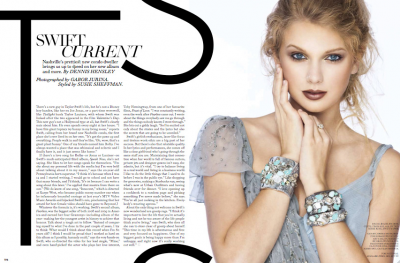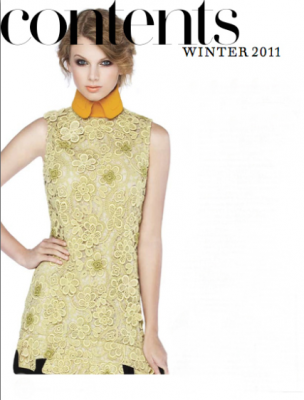 Lika vacker som alltid :)
2010-12-27
13:47:45
Taylor Swift RACHAEL RAY preview
2010-12-23
15:28:22
Speak Now toppar Billboard listan på top 200 albums
Som rubriken lyder så kom Speak Now på första plats
2010-12-21
20:33:09
Taylor samarbetar med PAPYRUS
Taylor samarbetar med
Papyrus
där hon är med och designar presentpåsar, kort, notblock och dagböcker
Sakerna är jätte fina, de har en webbutik så gå in 
här
för att läsa mer om hur du kanske kan beställa hem något från USA.
2010-12-20
17:49:30
Taylor MTV #3 Woman of the year
MTV News har släppt listan för
Top five women of the year
och självaste Taylor kom på tredje plats!
Grattis Tay för tredje platsen och här nedan kan ni läsa motiveringen till varför hon förtjänade platsen :D
.
Taylor Swift Is MTV News' #3 Woman Of The Year
Swift fell in and out of love through song, but we never stopped loving the superstar in 2010.
After a year as impressive as 2009, Taylor Swift followed suit in 2010. She toured the world, released a
chart-topping album and even starred in her first feature film. Swift kicked off the year winning awards and ended it dominating the charts, and in between, she never looked back.

Swift proved that she was more than just a crossover coincidence thanks to catchy songs and girl-next-door charm that appeals to the masses. She managed to scoop up awards and be surprised by each win. The other shoe isn't going to drop anytime soon, and 2010 proved that.

2010 Highlights: In January, Taylor took home her first People's Choice Award and covered Better Than Ezra's "Breathless" at the "Hope for Haiti Now" telethon. She also broke Britney Spears' record for first-week download sales by a female artist thanks to her tune "Today Was a Fairytale."

But it was February that would truly leave her breathless. At the Grammys in February, Swift took home four trophies, including Album of the Year. She also hit the stage with Stevie Nicks at the awards show. Weeks later, she would rule the box office alongside former beau Taylor Lautner in "Valentine's Day."
2010-12-19
17:58:18
Taylor nya bilder från Entertainer of the year photoshoot
Det har kommit nya bilder från Taylors photoshoot med 
Entertainment Weekly
för Entertainer of the year-specialen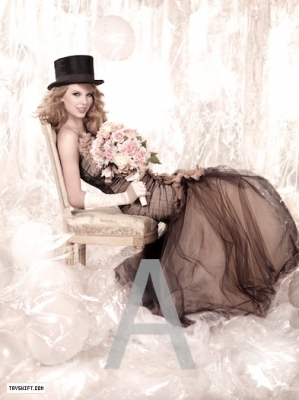 2010-12-19
17:49:17
BTD musikvideo kommer i januari!
Taylors pappa Scott uppdaterade sin facebook där han skriver att musikvideon till
Back to December
kommer i januari!
.
gosh jag vill se den nu!!!
2010-12-18
17:03:54
Taylor nya bilder från Thanksgiving Special
.
Om ni inte har sett hela Thanksgiving specialen så kan ni gå in
HÄR
2010-12-17
19:04:03
21 things we love about Taylor Swift
Billboard har lagt upp en bild på 21 som de älskar Taylor för!
.
2010-12-17
18:54:30
Två nya bilder från COVERGIRL!
Hittade två nya bilder och Tay är FLAWLESS!
.
2010-12-13
17:23:50
Fearless & Speak now målning av Peter Max
Peter Max är en välkänd konstnär som målade en underbar tavla till Taylor som avbildade hennes Fearless omslag som är fullkomlig underbar och nu har han målat av Speak Now omslaget! Kolla in de här nedan :D
Fearless: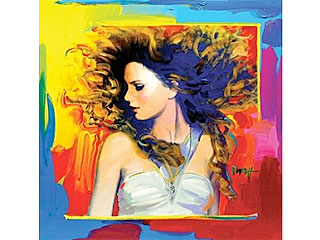 Speak now:
2010-12-13
17:13:23
Oh my gosh I cant believe it! Taylor Alison Swift is 21 today!!!!
Ett stort GRATTIS till vår älskade countrysångerska Taylor Alison Swift som i dag blev 21!
.
Jag kommer alltid att minnas den första gången jag hörde den underbara låten Love Story från albumet
Fearless som också gjorde mig FEARLESS.
Tay har lärt oss så mycket som att vi ska kämpa för det vi verkligen vill och för att vi ska vara stolta för det vi är och inte vilja vara nån annan och massor med flera saker.
Jag är verkligen stolt att kunna kalla mig för en Swiftie och jag hoppas att du får en underbar dag Taylor Swift.
Jag kommer alltid att älska dig - Forever and always
2010-12-10
10:39:50
Taylor utanför in hotel i NYC (8/12)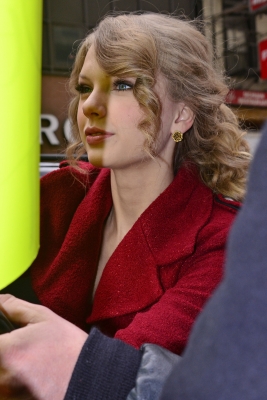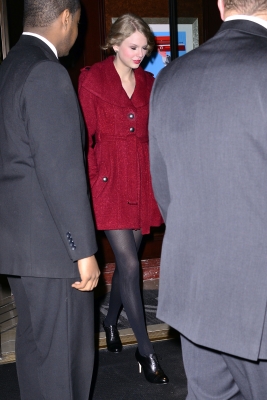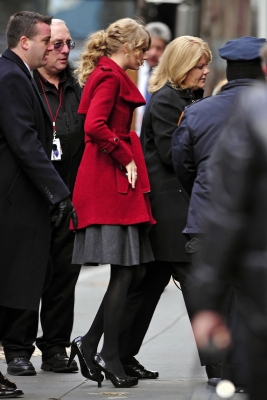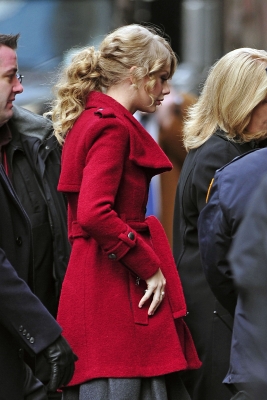 Gosh vad jag älskar hennes röda jacka!
2010-12-10
10:32:55
Taylor ny COVERGIRL photoshoot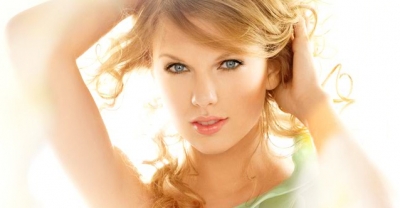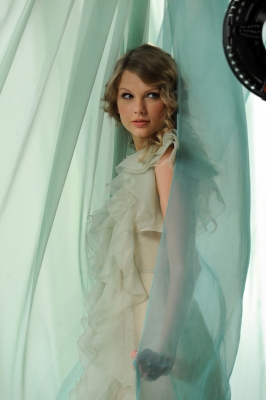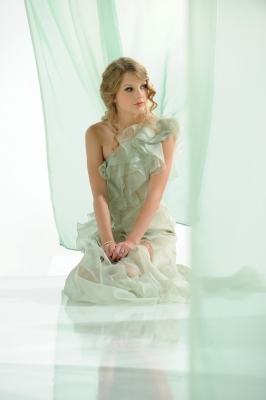 Hon är lika vacker som alltid!
2010-12-09
13:47:57
Recept för Taylors "Pumpkin Spice Cookies"
Ni vet säkert att Taylor 
älskar
att baka, och hon är omtalad för sina "
Pumpkin Spice Cookies
".
GAC har lagt upp Taylors recept på dessa kakor.
Receptet ser jätte god ut men jag har aldrig ätit pumpakakor, så ska pröva de snart :)
.
Pumpkin Spice Cookies w/Cream Cheese Frosting
Cook time:

10 mins

Yield:

Approximately 3 dozen
Ingredienser:
Yield: Approximately 3 dozen
Ingredients
For the cookies:
1 cup sugar
2 sticks unsalted butter, softened
2 tablespoons Maple syrup
2 eggs
1 cup canned pumpkin
1 1/2 teaspoons ground cinnamon
1/2 teaspoon ground all spice
1/4 teaspoon freshly grated nutmeg
Pinch ground cloves
2 1/2 cups flour
2 teaspoons baking powder
Pinch of salt
Glasyr:
For the frosting:
2 (8-ounce) packages cream cheese
1 cup confectioners sugar
1/4 cup milk
1 tablespoon vanilla extract
Zest of one lemon
For Garnish:
Whole pecans
Directions
Beskrivning:
Preheat the oven to 350 degrees F.
In a mixer, fitted with a paddle, cream the sugar and the butter until light and fluffy.
Add the maple syrup and eggs.
Mix to incorporate. Add the pumpkin and mix to incorporate.
Sift together the flour, baking powder, salt, cinnamon, allspice, nutmeg and cloves.
Add the dry ingredients to the batter and mix well.
Drop rounded tablespoonfuls onto ungreased cookie sheets

. Bake for 10 minutes, or until lightly golden brown around the edges

Cool on racks.
When cool, ice with the cream cheese frosting.
For the Frosting: In a mixer, fitted with a paddle, add the cream cheese.
Beat until light and fluffy. Beat in the powdered sugar until smooth.
Add milk and vanilla. Beat until smooth.
If frosting is too thick, thin with a little more milk.
Fold in the lemon zest.
When cookies are cool spread with some of the frosting.
Garnish with a whole pecan.
2010-12-08
19:50:01
Fler bilder på Tay och Jake tillsammans!
Jätte söta tillsammans!